Set up time conditions in YourSipCloud
In the evenings or at the weekend, there is often no one in the office to answer the phone. That is why you can set time conditions in YourSipCloud.
Create a time condition called "Lunch Break" that starts at 12:00 PM and ends at 1:00 PM. In your incoming route, set the destination time condition to voicemail.
Create a time condition called "Working Hours" that defines your normal business hours. Apply the time condition to your inbound route. You can also apply the time condition in your outgoing route to prevent employees from making outgoing calls outside office hours.
During self-defined holidays, the caller is sent to a voicemail. Time conditions during holidays can be set for this and the coming years, so you don't have to worry about them anymore.
To create a new time condition, go to "Inbound" and click on "Time Conditions". Press "Create" to create a new time condition.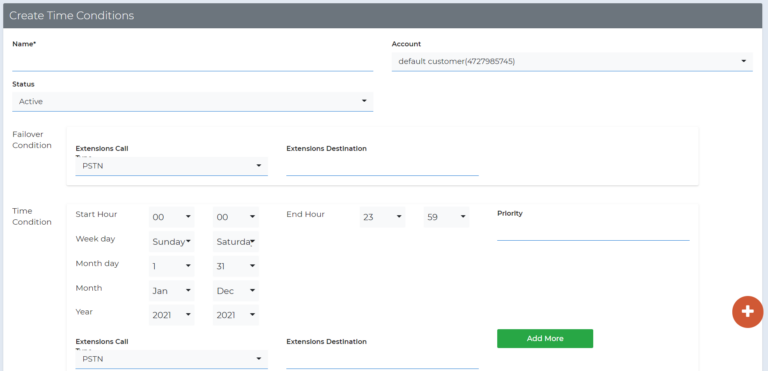 Explanation of the field:
| | |
| --- | --- |
| Name | Name the time condition |
| Account | Create a time condition under a selected account |
| Status | Change the status to active or inactive |
| Created date | The date of creation |
| Last Modified date | The date you last made modifications |
| Extensions call type | Select where the caller will be routed if they  call during the set times. The following options are available: PSTN (external number), Ring Group, IVR, Queue, SIP Device or Conference call |
| Extensions Destinations | Select the phone number of the extension type  |
| Start hour, end hour, week day, month, year | Indicate the specific times of the time condition. This can be, for example, the working hours (9 to 5) |
| Priority | Give this time condition priority if multiple time conditions overlap eachother |
Become YourSipCloud reseller-partner
Do you want your customers to also be able to use the YourSipCloud? Then become a YourSipCloud reseller partner. Contact Alex on +31 88 8000879 or click here. At Qupra you get 15 lifetime PBX licenses for free as an introduction.