Set up an IVR in YourSipCloud
It is in the interest of the callers and the organization that callers are helped quickly. There is nothing more annoying than telling the same story twice. With the help of an IVR, callers are immediately directed to the right employee who can help them further. You can also set up an IVR in YourSipCloud.
To set up an IVR in YourSipCloud, go to "Inbound" and then click on "IVR". Press "Create" to create a new one. You can adjust it exactly how you like.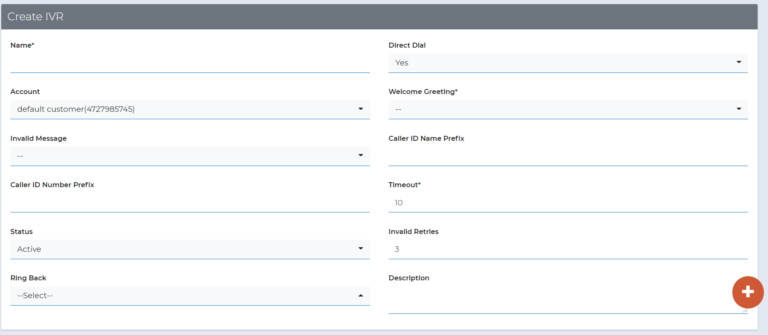 Name
Name the IVR
Account
Create the IVR under a selected account
Description
Add a description for a particular IVR
Created Date
Show the creation date
Last modified date
Show last modified date
Duration (seconds)
Show how many time people spend while calling
Status
Set the IVR status on active or inactive
Direct dial
If someone already knows the number of a certain department, for example, this person can skip the IVR and call the department directly
Welcome greeting
Play a tape to give all the choices. 

Example:

 press 1 for a ring group, press 2 for a queue, press 3 for a voicemail etc. Select a recording.

Invalid message
Play a tape saying that the caller's selection is invalid because it is not set in the IVR
Caller ID Number Prefix
Changes the number stored on the device with a number. 

Example:

 Original caller id name is John and you set 007_ as CID Name Prefix then the screen will show 007_John

Caller ID Name Prefix
This changes the number that comes on the device with a name. 

Example:

 Original caller id name is John and you set ABC as CID Name Prefix then the screen will show ABC John

Timeout
Set the number of seconds after which the tape with choices
Invalid retries
How many times is someone allowed to make an invalid choice before the call is ended
Ring back
Select the ring back tone
Digits
Determine how many choices there are, from 0 to 9
Destination
Choose the destinations of the choices. 

Example: 

0 goes to a Ring Group or 1 goes to a queue
Upload a sound file under "Inbound" and click on "Recording". To add a new recording, press "Create". The sound file must be in the following format: 15bit 8khz/16khz mono WAV file. Unfortunately, other formats cannot be uploaded.
Become YourSipCloud reseller-partner
Do you want your customers to also use YourSipCloud? Then become a YourSipCloud reseller-partner at Qupra. Contact Alex at +31 88 8000879 or click here. At Qupra you get 15 lifetime PBX licenses for free as an introduction.