Call routing in YourSipCloud
In YourSipCloud it is possible to adjust the call routing per SIP Device. For example, it is possible to have incoming calls automatically forwarded to the right employee based on the number someone calls. This makes it possible to use certain telephone numbers for an emergency line and to forward incoming calls to the employee who is responsible for this or a queue. Routing calls also works with certain time schedules. These are time conditions.
Routing a call can be arranged under "Account", "Customers" and then choose "Sip Devices". Here you see a list of all SIP devices. Click on advance on the far right to set the calling route of that specific device.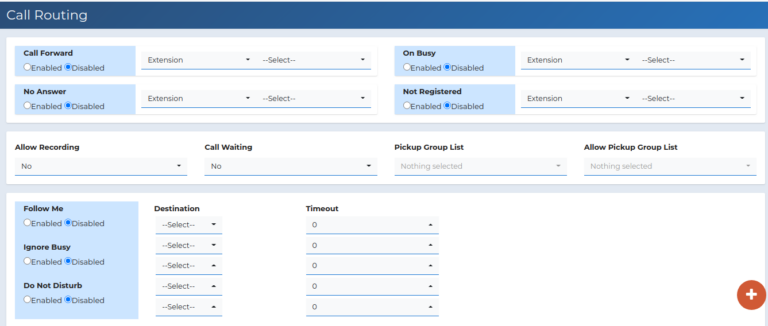 An explanation of the fields above:
| | |
| --- | --- |
| Call forward | Incoming calls are always transferred to a specific phone number |
| On busy | When you enable this option, incoming calls are transferred if the device is busy |
| No Answer | If this option is enabled, incoming calls will be transferred when nobody picks up the phone |
| Not registered | When this option is enabled, incoming calls are transferred if the device is not registered |
| Allow recording | Enable or disable call recording |
| Pickup group list | Select a pickup group. A pickup group makes it possible to answer calls from others on your own device |
| Allow pickup group list | Give the pickup group permission to take over calls |
| Follow me | Automatically forward incoming calls to a specified number |
| Ignore busy | If the phone is busy, it will forward to the specified number |
| Timeout | Select the number of seconds the phone will ring |
| Destination | Enter the number to forward to |
| Do not disturb | When the Do Not Disturb option is enabled, no calls will be received on this extension |
Become YourSipCloud reseller-partner
Are you interested in selling YourSipCloud to your customers? Then become a YourSipCloud reseller-partner at Qupra. Contact Alex at +31 88-8000879 or click here. At Qupra you get 15 lifetime PBX licenses for free as an introduction.